7 - 8 PM, Aug 20 (2022)
(Asia/Kolkata)
Online Digital Concept Hall Berliner Philharmoniker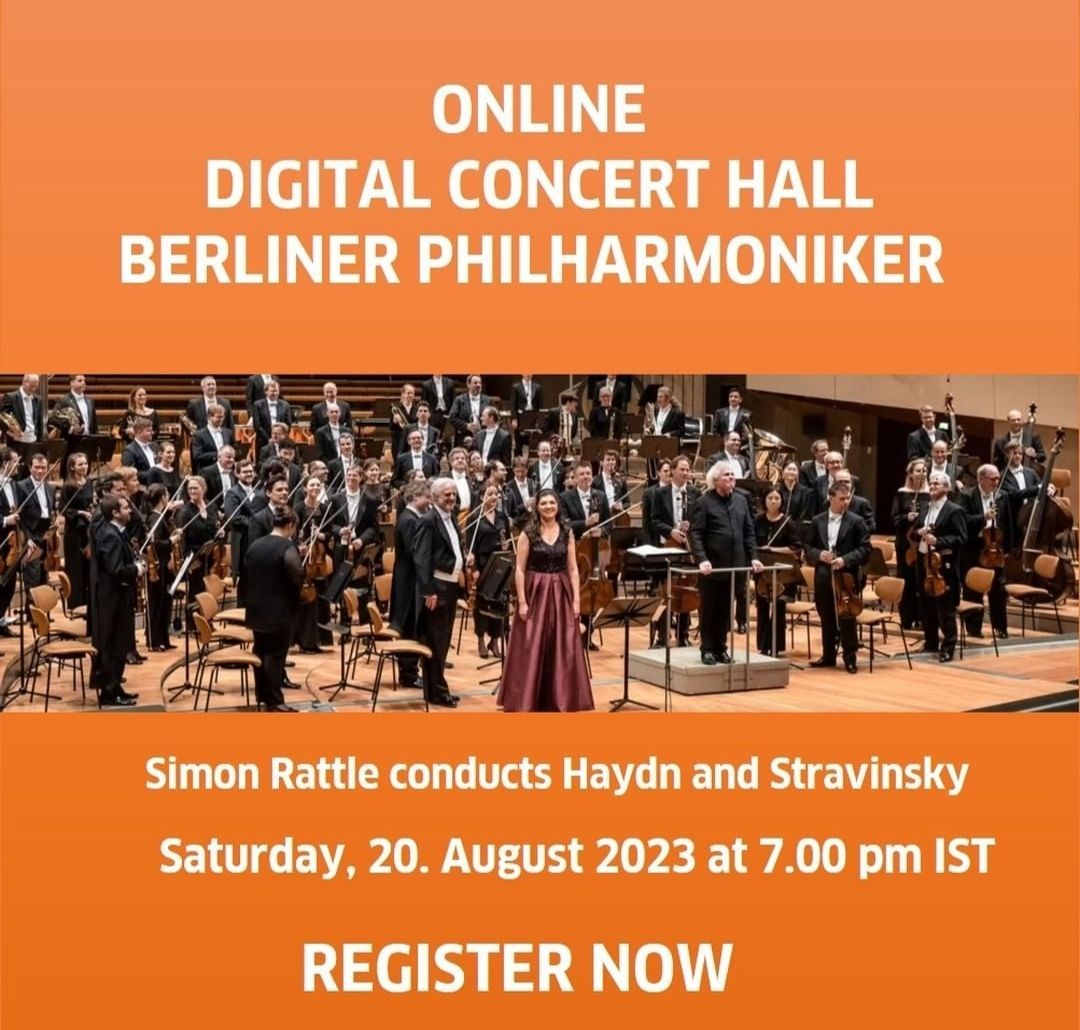 MAX MUELLER BHAVAN | INDIEN
KOLKATA

BERLINER PHILHARMONIKER - DIGITAL CONCERT HALL
Digital Concert Hall June 2022
© Berliner Philharmoniker-Digital Concert Hall
Sat, 20.08.2022
19:00 IST
Online
Simon Rattle conducts Haydn and Stravinsky

Joseph Haydn
Symphony No. 102 in B flat major

Stravinsky Journey, arranged by Sir Simon Rattle
Anna Lapkovskaja – mezzo soprano

In 2014, Simon Rattle, as chief conductor of the Berliner Philharmoniker, put together an "imaginary orchestral journey" of works by Joseph Haydn. Eight years later, the conductor now sets out on a similar expedition dedicated to Igor Stravinsky. The starting point is again the performance of a Haydn symphony. In terms of geographical changes of location, the First Viennese School composer could not keep up with Stravinsky, who was born in Russia and later settled in Europe and the USA, but the two were similar in their desire for experimentation and the will to travel musically to ever new locations.

In his later years, Haydn enjoyed great success in England with his works known as the "London Symphonies". A contemporary critic wrote of his 102nd symphony: "In harmony, modulations, melody, passion and effect, Haydn is wholly unequaled."

The Stravinsky Journey offers instrumental and vocal pieces written between 1907 and 1966, presenting highlights of music from the composer's Russian, French and American creative periods. At the end of his long career – and to the astonishment of the classical world – Stravinsky developed an idiosyncratic form of twelve-tone music, invented by his antipode Arnold Schoenberg, in works such as the Requiem Canticles performed here. On this tour, the fellow travellers in the audience can look forward to stylistic metamorphoses, wit, the intelligent play with expectations, and the mezzo-soprano Anna Lapkovskaja, who regularly appears at the state opera houses in Munich and Berlin.

This concert will be presented online. Kindly click here to register. All registered guests will receive the link to watch and listen to the concert on Saturday, 20 August 2022 by 7:00 pm IST.